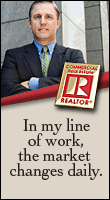 NAR

®

Commercial Connect
Connections count. That's why NAR supports thousands of commercial real estate practitioners by providing access to a wide range of tools and resources to help grow your business. NAR Commercial is your hub for navigating the commercial marketplace: industry news, legislative advocacy, comprehensive research, webinars and market reports – all at your fingertips.
NAR helps you and your business thrive by providing member services and resources developed specifically for
commercial real estate professionals.
Commercial Education
Whether you're new to commercial real estate or looking to grow your expertise, NAR has educational offerings to expand your knowledge.
Commercial Communication
As an NAR member, you have access to an array of commercial real estate resources and information, such as CommercialSource.com, Commercial Intelligence Briefings and the Commercial Real Estate Outlook.
Commercial Advocacy
NAR works to impact policy, regulation and legislation that affects commercial real estate and your business. You can become an active advocate through committees, industry conferences, social networks, NAR's commercial affiliates and other local and state activities.
Make A Commercial Connection
We've made it easy for you to get in touch with other REALTORS® focused on commercial and with NAR Commercial.
Commercial Affiliates
NAR's commercial real estate affiliate organizations provide educational programs that promote professionalism and offer commercial real estate designation.
The RPR Commercial Initiative extends RPR's core commitment to leverage a parcel-centric database to create business value for all of NAR's members. Commercial REALTORS® have specific requirements related to search, property data sets, presentation, and customer reporting. The RPR Commercial application is being developed to meet the needs of those members specializing in commercial sales and leasing, ultimately for the benefit of their clients and customers.
Visit RPR Commercial HERE.